April 7, 2022
Greetings in the name of our Risen Lord and Savior Jesus Christ,
It is almost Easter. I hope to see you all at our Easter Celebrations, either Saturday at 5 pm in the Chapel or 10 am in the Sanctuary.
Good news, we have a mail list now so we can start mailing you important information. The first item we mailed to you was our Easter Letter inviting you to support the Dixon Food Pantry and Dixon Habitat for Humanity. We will continue to email out information, especially if it is time-sensitive. Our plan is to begin mailing the Herald with the May issue. In today's world, people receive and look for information on many different platforms so it is important for us to communicate information on all these platforms.
March sure was a busy month at the church! First, we began our 2022 Lenten worship series: A Jesus-Shaped Life. Lent is the time in the life of the church when we are invited to take a deep journey into the recesses of our heart, mind, and soul. The important fact to remember is that we do not take this journey alone. Jesus our brother walks with us. The journey is not just to uncover and recognize those things in our heart, mind, and soul that need to be dealt with. It is not a time just to repaint and redecorate the walls of our heart, mind, and soul. It is a time to renovate! We have a bad habit of erecting walls around those things we think we need to protect, those parts that have been hurt or that the world would tell us that are important and need to be protected. The problem is that there is a striking difference between what the world says is important and what God says is important. This year we have invited and encouraged you to reshape your house. Tear down those walls and let the carpenter renovate your heart mind and soul. The carpenter – yes, Jesus the carpenter! We want to shape our lives into the image of Jesus! The life of Jesus is our model to use to renovate our heart, mind and soul. We want to live a Jesus-Shaped Life!
One of the ways that show that your house is being renovated and that you are working with the Holy Spirit on living a Jesus-Shaped life is to be a servant. Jesus, the King of Kings, the Lord of Lords came to serve not to be served. Jesus through his life and especially through his death on the cross showed us how to be servants. Throughout the series, we have talked about the ways Jesus served and we have invited you to take actions steps to serve as Jesus served. With that in mind, we want to encourage you to find a ministry in the church and a mission in the community where you can be the hands and feet of Christ.
To this end, we created the Just say Yes to Jesus Challenge and Celebration. When you serve and we find out about it we want to present you a Just Say Yes to Jesus T-shirt to celebrate that important step in your living a Jesus-Shaped Life. Serving shows that you are responding to the love of God found in a relationship with Jesus Christ. It is hearing the voice of God the Holy Spirit and responding. It is evidence of you becoming a mature disciple of Jesus Christ. As a church, we should celebrate those moments in the life of God's people.
Celebrating what God is doing through us is so, So, SO, SOO, important!! To Celebrate you living a Jesus Shaped life as a servant we want you to take of picture of you, YES YOU! Take a picture of yourself in the ministry or mission where you are serving. Send me the picture at pastortjm49@gmail or text me the picture at 815-440-0278 so that we can put it on our Just Say Yes to Jesus Celebration Wall.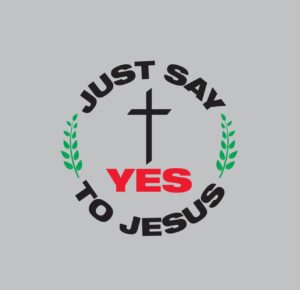 Remember it is not you bragging about yourself. It is you saying look at the blessings God has called me to participate in!!!!! We bragging about God working in our lives! The Celebration Wall will be on the first window when you enter the narthex area at the back of the Sanctuary.
I look forward to celebrating with you as you grow into your Jesus-Shaped Life!
See you around the church and around the community!
Blessings Pastor Tim