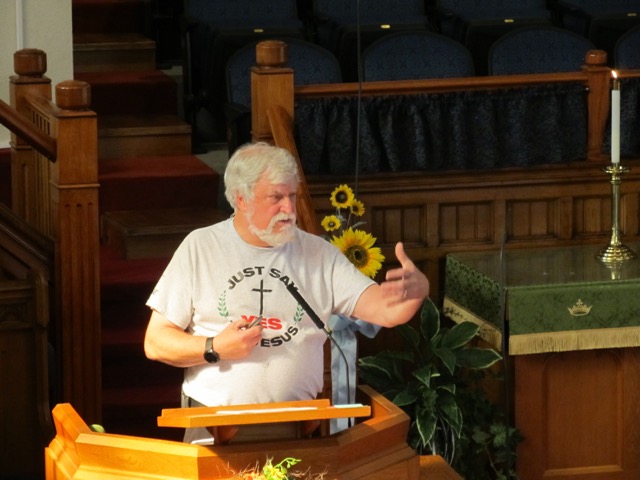 November 2023- My Senior Pastor's Report to our Annual Church Conference on October 12th.
Greetings in the name of our blessed Triune God, Father, Son, and Holy Spirit.
I begin this letter by taking a moment to pray our 202 Breakthrough Prayer for 2023:
God of love and power, may Your Holy Spirit continue to challenge us to see Your vision and to pray for Your amazing advances. Let us celebrate the moments where we have seen You in action within our lives, our church, community, and beyond.
As we move faithfully forward for Your Kingdom; may the light of Christ fill us and our church, as evidence to the people we meet of our transformed lives. May our foundation continue to be strengthened in Your boldness and courage shining brightly through our lives.
God, through Your Holy Spirit, guide our imaginations to see and do more than we can even envision, energizing our Christian witness.
In Jesus Christ's Holy name, we pray. Amen.
We continue to pray our 202 Breakthrough prayer daily at 2:02 p.m., asking God to guide our congregation forward into a vibrant and flourishing future.
2023 started off with our annual Leadership Summit. We gathered to worship, celebrate, learn, and make plans to take the next steps in fulfilling our Beyond the Horizon Vision:
This is our Beyond Horizon Vision (BTHV)
Dixon First United Methodist Church is a community of faith that provides a caring place to thrive and flourish. Being a part of Dixon FUMC is being part of a family, not perfect, but a loving and caring place to call home.
Faith is a building block for life that is essential to flourish. If anything robs you of that foundation, you will discover the loss of faith will be devastating. You will realize this reality in moments of terror as tragedy overwhelms your life. Most of the time, we live life on autopilot, but when struggles happen, we need a strong faith-based foundation that is unshakable.
Over the next 5 years, our community of faith will be the compass for guiding hundreds of families into a loving and life-giving relationship with Jesus Christ. Through our discipleship pathway, we will help them grow Jesus-shaped lives that reflect Christ's values and not those of the world.
We want you, your family, and everyone in our community and the surrounding area to flourish. Come and join us as we journey together, seeking to make Christ our cornerstone, the anchor in the storms of our chaotic world. Our vision is to see our community, nation, and the world grow together into a loving relationship with God and our neighbor.
Our Mission Statement remains the same: Making Disciples of Jesus Christ for the Transformation of the World by Faithfully Uplifting the Message of Christ.
At the end of January, our Leadership gathered for our annual Leadership Summit. Now that we had our Beyond the Horizon Vision, it was time to start developing our Ministry Plan to chart our journey forward to fulfilling God's vision for Dixon First UMC. We worshipped, prayed, and worked to uncover our Background Vision throughout the day. These were the four Big Rocks (areas) that would guide the life of our congregation as we developed our Ministry Plan.
The four Big Rocks are:
Connection: Creating connections points in our church for families, youth, children, and singles.

Community: We are called to be witnesses of the Gospel in our community. Creating ways and opportunities for our people to be in the community, engaging people where they live, work, and play.

Discipleship: We are all disciples of Jesus Christ, so we are to build opportunities for people to grow Jesus-shaped lives. Now that we have our Beyond the Horizon Vision, we will use that as our guiding principle to direct our Discipleship Pathway, which moves Seekers to Maturing Christians.

Worship: Create inspiring worship services that attract multigenerational people to praise and glorify God.
After important, lively, and fruitful conversations to find our Four Big Rocks, we decided to concentrate on the Big Rock of Community for 2023. The outstanding work of the Leadership Summit sets the direction for our Leadership Council, committees, and ministry team for 2023.
Not only did the Leadership Council have the important work of overseeing the church's daily life, but it also took on the critical work of creating our One Board Guiding Principles. For the first six months of the year, the board worked diligently to complete the Guiding Principles that will shape our congregation's future through the One Board's leadership. At this Charge Conference on October 12th, we will vote on adopting an accountability and missional style of leadership.
With the One Board model, we are transitioning from a top-down control model to an empowering and missional framework that aligns seamlessly with our Beyond the Horizon Vision. This transformative shift liberates our members to serve as witnesses for Jesus. We will organize into ministry teams, tending to various facets of church life and mission teams, actively sharing the gospel in our community and beyond. The beauty of the One Board is that it empowers each of us to be witnesses, both ministering to our fellow believers within the church and spreading the good news of Jesus throughout the world
and witnessed to our community the love of God found in a relationship with Jesus Christ through the indwelling presence of the Holy Spirit.
We had a full year of Powerhouse Kids and Agape Youth. We averaged 8 children weekly in PHK, along with 18 different adult shepherds. PHK ran for 34 weeks from September 2022 to May 2023 with 287 total children. Throughout the year, special quests would come to read, play piano, and help in the background doing whatever was needed. Our Agape Youth averaged 5 youth with 3 young adult leaders, Aalyiah Baker, Jadyn Erb, and Kenzie Laird, under the guidance of Pastor Young Sun and Pastor Tim.
We welcomed Heirborn, a Christian band of local Nazarene worship leaders, for Christmas and Easter Concerts. Our community received them well. Along with our annual Vesper service, the first Sunday in December, music remains a vital part of our worship. Throughout the year, we enjoy being filled with the Holy Spirit through our senior choir and Bell Choir music.
Our mission trip this year was a combination of adults and youth. 18 youths and adults went to the Midwest Distribution Center in Chatham, IL, for a week. One of our projects on Thursday was to clean out the basement used as the storm shelter. Later that day, just after lunch, we used that shelter to protect us from tornados that ripped through the area. We spent the rest of Thursday cleaning up the property of the Sugar Creek UMC next door to the Distribution Center.
With a generous gift from one of our families, we set up our Big Rocks Fund to help fund the fulfillment of our Beyond the Horizon Vision. This wonderful gift takes the burden off finding money in the general budget to energize ministry and mission opportunities related to making God's vision for our church a reality.
It has been wonderful during the year to have newborn babies in the Sanctuary. We moved the nursery to room 205 during the summer, just outside the Sanctuary. It is remodeled and looks beautiful. You can watch the church services as they are live-streamed. We would like volunteers to staff the nursery to help parents as needed.
There will definitely be opportunities ahead! Getting comfortable with our One Board leadership model will take a couple of years. But, with the direction God had called us and the willingness of our congregation to be servants and witnesses for Jesus, we are poised for a revival! As we live in the indwelling presence of the Holy Spirit, we can trust that God walks with us daily!
Blessings