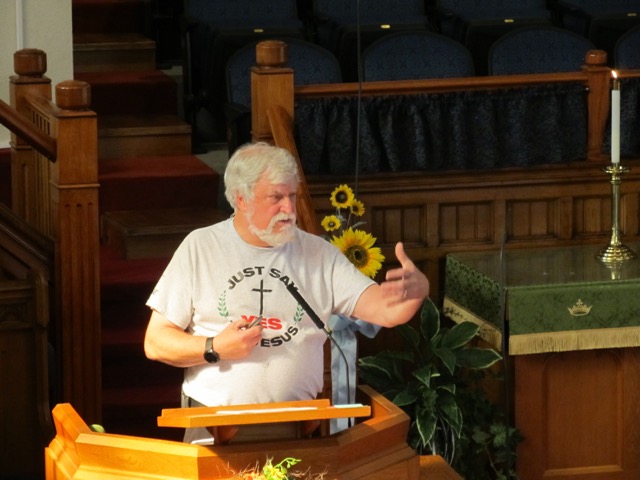 June 2023
Greetings in the name of our Risen Lord and Savior, Jesus Christ!
It is hard to believe that we are almost half done with 2023! I guess when life is full of activity, and you are always busy doing something the days seem to run together. Someone told me that before you retire there are seven days in the week but after you retire there are only six Saturdays and one Sunday. That means you can lose track of time so easily! What day is it!!!!!
We have had that type of year here at Dixon First! So many great things have happened. It was just January and we were celebrating the new year. Now, it is June and the year is half over! In between, we have celebrated, worshipped, learned, and shared life together. We are looking forward to making connections in our community to show people that our church cares for them. Every day we have the opportunity to be a part of the great work our beloved Triune God is doing. I am so thankful that God has chosen us to be His witnesses here on the corner of Second Street and Peoria Ave. Not only on this corner but anywhere we are we are God's witnesses to the great love found in a relationship with Jesus Christ.
We just finished celebrating Pentecost. Pentecost is the fulfillment of Christ's promise to be with us always. God the Holy Spirit, the third part of the Trinity, our comforter, our advocate, our teacher is with us always and everywhere. What a comforting and wonderful reality knowing that God is with us always!
We live in a time full of anger and hostility. People are not treating each other the way God wants, with love and compassion. The root cause of all this anger and hostility is fear. We you read the biblical accounts of the time between Jesus' resurrection and Pentecost there was a lot of fear. Fear of not knowing whether the disciples and followers of Jesus would be arrested. Fear that their lives would be worse than they were before Jesus came into their lives. The resurrection changed much of that fear because in the resurrection God fulfilled his promise. On the day of Pentecost, God's promise of the Holy Spirit coming and residing with all of humanity became a reality! The fear of tomorrow was filled with the hope of a future living with God! Amazing and wonderful news!
We just finished a wonderful worship series called Living IN the Real World. It was encouragement and teaching from the Apostle Peter to the believers throughout the Roman world facing struggles and hardships. In chapter 4 of 1 Peter there are encouraging words that everyone needs to hear, "7Cast all your anxiety on him, because he cares for you…10And after you have suffered for a little while, the God of all grace, who has called you to his eternal glory in Christ, will himself restore, support, strengthen, and establish you." I truly believe that if we can connect the people around us with the love of God found in Jesus Christ so that the indwelling presence of the Holy Spirit resides in them, the world can be changed. Fear can be replaced with hope and peace. As you travel about this summer may that hope and peace of God flow from you into the people you meet.
Blessings