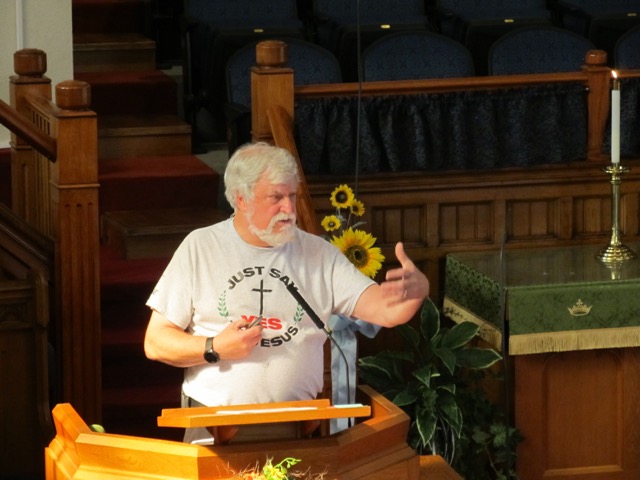 October 2022
Greetings to the faithful at Dixon First UMC,
Wow! What a month September was!! Throughout 2022 we have been celebrating people responding to God's love through their relationship with Jesus Christ. Whenever someone stepped out and became a servant, serving others we celebrated with them. We gifted them with a Just Say YES to Jesus t-shirt. If you happened to miss the front page of this Herald you missed over one hundred people celebrating Just Saying YES to Jesus on Sunday, September 18th.
Check out the beautiful pictures of the celebration!!!!
Whenever someone responds to the love of God found in Jesus Christ it is a time to celebrate! We will always find ways to celebrate stepping out and serving others in the name of Jesus!
Becoming One
Throughout the month of September, I have been introducing our Beyond the Horizon Vision (BTHV). Our BTHV is where God wants us to be in 5 years. God wants everyone to flourish, to become the best self that God sees. God has called our church to be guides in helping people come to know Jesus as their guiding light so that they can flourish and thrive. Through our Discipleship Pathway, we are all invited to grow Jesus-shaped lives that reflect God's character and God's values. As we grow Jesus-shaped lives we Become One with God and One with our neighbor.
One Board Model
I want to invite all our people in leadership to attend a special presentation on a new and exciting way to lead our church. The Rev. Dr. Jaye Johnson, Director of Congregational Excellence for the Iowa Annual Conference of the UMC will be presenting: Creating Momentum Through Effective Leadership Structures – The traditional organizational structure of our churches with an Ad Board, Trustees, SPPRC, Finance committee, and a plethora of other committees can hinder missional alignment, slow down decision making, and work against creating momentum for change. This alternative structure makes spiritual leaders who disciple others, help a church's mission focus, streamlines decision-making, and free people from committee meetings so that more people can use their time in hands-on ministry.
Charge Conference
Finally, I want to announce that our Annual Church Conference will be Sunday, December 11 after worship. Our Annual Church Conference is a time of celebration of what God has done in our midst over the past year. It is when we announce and set our leadership. We will also approve our 2023 budget. If you have never been to one of our Church Conferences stay after worship and experience what it is all about.
I am so excited and energized by what God is doing at Dixon First UMC. God is raising up our church and its people to make a difference in our community, our nation, and our world. Continue to pray our 202 Breakthrough Prayer for 2022. Continue to thank God for the blessings in your life. I look forward to seeing you around the church or in our community.
Blessings Pastor Tim