Children & Youth
Powerhouse Kids Sunday School Nursery-5th Grade

The Kids Church that takes place during Sunday adult service is temporarily closed due to COVID-19 but we will be ready soon. Stay tuned. Currently, families join together in the sanctuary at 10:00 A.M. Sundays. During church services kids have disposable activity packets available.
We premiere Kids Church on Facebook 9 A.M. Saturday and Sunday of each week. Watch anytime it is convient or interact with those watching at these times. Laura is never watching on Sunday.
You can also ask for a special kids service cd to be sent.
A little kids version of the "Risen" Escape Room is available September-October.
Read more in the Agape Youth Section below.
Coming Sunday October 25th from 11:45 A.M.-1:00 P.M. a Drive thru Trunk or Treat. Drive thru to see Bible Story Trunks or Tables. At the end PreSchool kids get recycled books and a goody bag. All bags will be packed a week in advance. They will contain treats and stories that match the trucks.
Power House Kids reopening plans:

Kids or family of kids sit at one desk. Just like school. Once a month table changes.
Temperatures and names are taken when you enter. Masks are worn except for kids 2 and under.

If you do not have a mask they have some when you enter the church.
Matching tags cards will be given for child pick up and sign in will be done by the teacher only.

A photo of Kids Church set up for now. It is always changing to suit the need of the day.

Power House Kids Ministries and youth ministries. "The kingdom of God is not a matter of talk, but of power" found in 1 Cor. 4:20, is the foundation of our theme. Our kids are part of that kingdom, part of that power, and a vital part of changing the world with God's love.
Vacation Bible School 2020 and 2021

Our 2020 Zoom VBS was difficult. By day 3 of 4 we knew what we were doing. This VBS is still available
online and can be used as a family Bible time. Receive the coloring pages via email and check
out our PowerHouseKidsDixon Facebook page.

We hope it will be in person. The crafts and
science activities
are so much fun! Stay tuned for dates!
Agape Youth Grades 6-12th
We are currently hosting outdoor events once a month. Watch for invites on our Facebook page or ask to be a part of the parents message group.

If the youth would like to get together for a Zoom Party let Laura know. Zoom Parties right now can be Tuesday or Sunday Nights. As often as the Agape Youth would like to meet. We understand at this time some kids are tired of being online.
The "Risen" Escape Room:

Open to anyone one family per Sunday September thru October
Schedule a Sunday afternoon with your family only in our "Risen" Escape Room. You must solve in 35 minutes or less to win. The family with the quickest escape at the end of October will receive a prize for the best time. The winning family will pick it up at the drive thru Trunk or Treat. One family can play per Sunday to keep it COVID-19 Safe. Must follow CDC guidelines. Call Laura directly to schedule 815-421-3279
We take safety seriously.
Every Youth meeting requires two Safe Gathering Approved Adults with minors. Our College age helpers must have safe Gathering training. Approved Safe Gathering Teachers must be more than 5 years older than the oldest minor and again no adult is to be alone with a minor.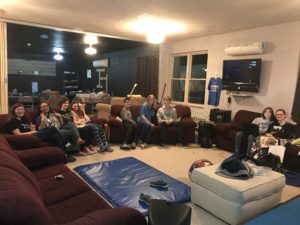 This church has built a 175 year foundation of serving the community and teaching God's word while growing and changing. It has come a long way from the small building near the river. This wing, dedicated to the young and future generations, is yet another way we can show God's love to our city.