Children & Youth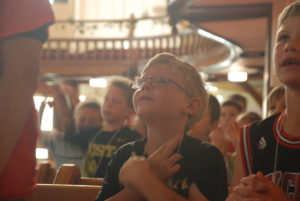 Powerhouse Kids Sunday School
Our Sunday School has been upgraded and is now called "Powerhouse Kids" This new adventure for the children began on Sunday, October 6. It is held during the 10:00 a.m. service on Sunday mornings. Parents will be able to sign their children into the program on the third floor at 9:40 am in the play area and pick them up after the service on the same floor in their classroom or play area.
From colorful carpet to bright curtains, everything brings life and purpose to the 3rd floor of the church, now home of the Power House Kids Ministries and youth ministries. "The kingdom of God is not a matter of talk but of power" found in 1 Cor. 4:20, is the foundation of our theme. Our kids are part of that kingdom, part of that power, and a vital part of changing the world with God's love.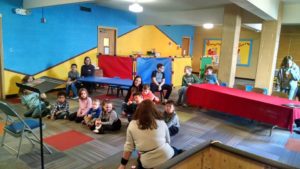 Playland, the new nursery, is bright, wonderfully scented, and finished with soft flooring and furniture you'd find in a home. It's a safe and
friendly place to drop off your littlest one. The Power Station rooms, one for preschool through kindergarten, and one for 1st through 3rd grade, are painted brightly and have room for game-centered learning on the new colorful floor mats, as well as tables for crafts, snacks, and hands-on experiments. The 4th through 6th graders meet in the carpeted half of the youth room, where gray and electric yellow are dominant colors: a more sophisticated vibe for pre-teens.
There is a sign-in/check-out process in place to bring safety and order for all the children. Sign in starts at 9:45 on Sunday, with teachers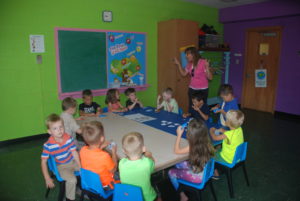 supervising the Power House Arena and the youth room, the two spots where kids can hang out until service starts at 10. Students through 3rd grade enjoy the power of color and the fun of a bounce house in their own church every Sunday. The upper classes have their own version of fun with air hockey, ping pong and other games in their room before service. Our students have invited friends and their parents, and we've heard many times, "Oh, man…is it time to go already? Can we come back next week?" The fun is exciting, and the lessons they learn are real, life-changing and from the Word of God.
This church has built a 175 year foundation of serving the community and teaching God's word while growing and changing. It has come a long way from the small building near the river. This wing, dedicated to the young and future generations, is yet another way we can show God's love to our city.
Vacation Bible School
Each summer we hold Bible School from Monday Through Friday.
Please contact the church for times and locations or check our website and facebook!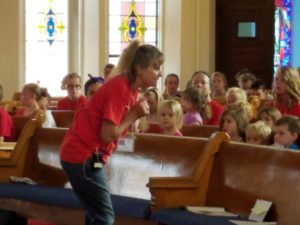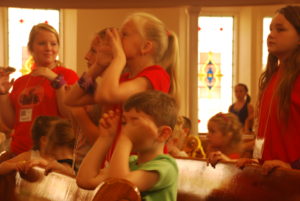 Youth
Youth meet in the 3rd floor Youth Center each Sunday at 11:30 – 1:00 pm. For more information, please contact the church. Youth will not meet during June, July and first of August. They will begin meeting again on August 21st.