Children & Youth
Powerhouse Kids Sunday School Nursery-5th Grade
I AM the Light of the World-activity sheets
Jesus Transfigured activity sheets
The Lord is My Shepherd Activity Sheets
Activity Sheets for Jesus and Jonah, 02-13-22
Activity Sheets the Resurrection of Jesus
Activity Sheets for the Parable of the Talents
Activity Sheets for Jesus as a child
The Baptism of Jesus Activity Sheets 01-09-22
Miracle of Christmas Activity Sheets
Activity Sheets for Powerhouse Kids, 12-5-21
Journey of the Wise Men Activity Sheets
Jesus Gives Thanks Activity Sheets
A Woman of Faith Activity Sheets
I am the Resurrection and the Life Activity sheets
The Creation Handouts, 10-17-21
Power House Kids Ministries and youth ministries. "The kingdom of God is not a matter of talk, but of power" found in 1 Cor. 4:20, is the foundation of our theme. Our kids are part of that kingdom, part of that power, and a vital part of changing the world with God's love.
Handout for 10-10-2021
Agape Youth Grades 6-12th
We are currently hosting outdoor events once a month. Watch for invites on our Facebook page or ask to be a part of the parents message group.

We take safety seriously.
Every Youth meeting requires two Safe Gathering Approved Adults with minors. Our College age helpers must have safe Gathering training. Approved Safe Gathering Teachers must be more than 5 years older than the oldest minor and again no adult is to be alone with a minor.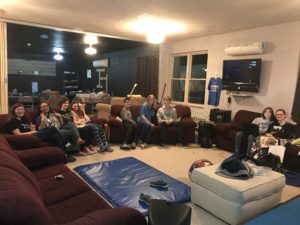 This church has built a 175 year foundation of serving the community and teaching God's word while growing and changing. It has come a long way from the small building near the river. This wing, dedicated to the young and future generations, is yet another way we can show God's love to our city.