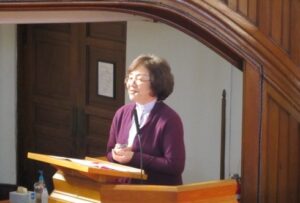 Greetings to the sisters and brothers in Christ of Dixon First UMC!
I hope you all have been enjoying warm weather for the recent few weeks right after a severe, but normal in Illinois, winter weather! As many of you might have already experienced, I feel that the older I become, the faster time flies. I feel like I was in my 40s a few months (too much? Then a few years) ago, but I will be in my sixth decade (60s) in March this year.
However, I am so glad that God allows me to be grateful for my getting older because I have witnessed God's love and grace more clearly especially at times of difficulty as I am aging every year. This is what I have experienced again through the last few weeks since I took my commissioning interview and received a result of "not yet" again. Since entering seminary to discern my call to ministry, the Holy Spirit has guided me to follow my call to ordained ministry as elder and thus face the requirement of ordination interviews.
During the ordination interview process, especially these last two interviews where I received a "not yet" again, God has provided me with yet another reassurance of my call to ordained ministry –to follow Jesus Christ in his modeling of humble servant-ship, seeking God's will with full obedience to it. God reassured me of my call to ordained ministry through the love and support shown to me by my loving family and friends in Christ through this difficult time. I was not discouraged at all from the result of "not yet," but rather more encouraged and empowered by this amazing love and grace of God that I have experienced in the loving relationship with God and with my loving family in Christ through the power of the Holy Spirit.
As we begin the new Lenten worship series, "Jesus in the Wild," the author Dan Wilt says "the story of Jesus in the wild is the story of Jesus facing His calling as the Son of god and the enemy's resistance of that calling." Through the story of Jesus' calling in the wild, we can understand our own callings in Christ Jesus as His disciples with our love of God and love of neighbors.
Jesus must face His calling in the wild, which He received in His baptism and followed through His whole life into His sacrificial death on the cross and the resurrection from the dead for the salvation of us from sin. Like Jesus, we are called to face ourselves in the wild places of life, looking into ourselves, as Dan Wilt suggests, regarding "who we want to be, who we are called to be, who we thought we were, who we knew God to be, and who we believe we are in God."
As Jesus was tested in His calling through temptations from the devil, we are also tested through many temptations and frequent struggles in the wilderness of our own lives. But, as the Apostle Paul proclaims in Romans 8:28, "We know that all things work together for good for those who love God, who are called according to his purpose." (NRSVUE), God has always allowed us to be tested and/or struggle for our good. But the devil, our enemy, never gives up tempting us to seek the worldly values instead of the life in the Kingdom of God that we are called to live in our lives as disciples.
Like Jesus, however, we are coming out of the wild strong, faithful, truthful, and triumphant through our test and trial by following the way of Jesus Christ in any kind of temptations and/or struggles that we are facing through the journey in the wild of our lives.
May all we be like Jesus in our journey into the wilderness of our lives through this season of Lent by discerning and receiving our calling in all its fullness; embracing and fulfilling it for the glory of God and encountering the risen Jesus Christ, our Lord and Savior, on Easter morning with all the joy and praise to our Triune God, Father, Son, and the Holy Spirit! Amen.
Blessings,
Pastor Young Sun