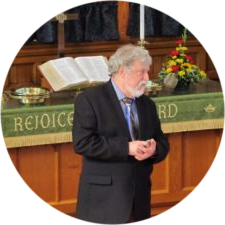 Greetings to the faithful at Dixon First,
It is Monday morning and I am racing to finish my letter for this month's Herald. Melissa needs it to start printing this afternoon. It has been one of those months! Historically, June is one of my busiest months and this year was no exception. It was even busier than normal because Grace graduated from High school. I began the month attending and celebrating with Grace and Jody a milestone in Grace's life. Then I attended Annual Conference that was a day longer so we could elect delegates to our 2020 General Conference in Minneapolis Minnesota. Finally, I directed my 21st year of JOY camp at Camp Reynoldswood. JOY Camp involved a lot of preparation to coordinate all the camp activities for a week long experience for 75 campers and 20 plus counselors. I'm tired just writing about what happened in June! I know that if I am that busy that many of you too are overly busy in your lives.
As I look back over my month there isn't anything that could have done to make it easier. There was nothing that I could give up doing that would have created some free time in my schedule. We need to remember there are times in our lives where we just have to put one foot in front of the other and stay focused on what needs to be done today just so we can survive. In those times it is so important to have a deep and abiding relationship with God. During times that can be overwhelming it is important to remember Philippians 4:13. "I can do all things through him (Christ) who strengthens me." This summer we as a church have been reading through the book of Proverbs. One of the Proverbs that has be a good reminder for me to lean on God in the busy times is Proverbs 16:3 "Commit your work to the Lord, and your plans will be established." Our lives begin, end and are sustained through our relationship with God through Jesus Christ. It is by the power of the Holy Spirit working in and through us that we are able to accomplish much then we would ever think possible. Other parts of our life may need to take a back seat at times but our relationship with God should always be a priority. In living life in the presence of our risen Lord and Savior, Jesus Christ by the power of the Holy Spirit we will be able to see our way through the overloaded days our lives.
At JOY Camp this year our theme was YOU. We used the Prodigal Son story from the Gospel of Luke and the song Prodigal from Sidewalk Prophet to teach the youth that "God Loves You! And there is nothing you can do about it!" You cannot earn God's love! God loves you no matter what. God's love is undeserved, unmerited and unchanging. What we can do is respond to God's love by accepting it and sharing it. Holding on to this understanding of God's love will also help us navigate life when it becomes overloaded.
I want to leave you with a blessing that I heard my co-director Rev. Wesley Dickson share with JOY Camp at the end of worship each evening. It goes something like this, "May God be below you to give you strength. Beside you to be your friend. Behind you to give you encouragement. In front of you to lead you. Above you as your Lord and Savior. And finally, inside you to remind you daily of the love of God that dwells in you. Go in the name of the Father, Son, and Holy Spirit. Amen."
Blessings Pastor Tim