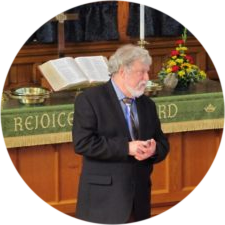 Greetings to all my sisters and brothers,
I want to review who God is calling our faith community to be. Our mission statement says FUMC where: Our mission is making disciples of Jesus Christ for the transformation of the world by Faithfully Uplifting the Message of Christ. FUMC is a place that wants to be known as the "Go-To" church in our community. A place where all are welcome regardless of the commitment or strength of their faith. In our people they will find a welcoming and generous group committed to Gathering, Growing and Going in their relationship with Jesus Christ. By Faithfully Uplifting the Message of Christ we are joining with God to make the biggest Kingdom impact possible. The purpose of the "Church" is to share the Good News of Jesus with one person at a time so that all people in our community have the opportunity to accept Jesus as their Lord and Savior. I want to celebrate a couple of ways that we have been the "Go-To" Church in our Community.
The first way that I want to celebrate us being the "Go-To" church happened on March 2nd when we opened our doors to The Faith Christian School so they could host a Breakfast Fundraiser in our Fellowship Hall. We have a wonderful facility that is in the middle of the action in the downtown area that is a great place to host a fundraising event. What we did as the "Go-To" church has kingdom implications. It is a reminder that as a church full of Christ-followers our responsibility to share the Good News not only happens when we invite individual people into our fellowship but when we allow other churches to use our facility to promote their ministry. By opening our fellowship hall we become a part of the greater mission of the Universal (catholic) church. By the way, you will have another opportunity to support a mission at our church on Saturday, April 7th when the Lost Lake Nazarene church hosts a Pancake Breakfast to raise money for an upcoming mission trip.
The Other "Go-To" event that happened was opening up our church facility to the family of Ike Mercer as they celebrated his life. I never had the pleasure of meeting Ike but I heard story after story of how his life impacted our community. I also met his family they, impressed me by their deep and abiding spirit, their love of God and their love of their father. Ike's church, The Second Baptist Church was not big enough to hold all the people who came to pay their respects to Ike and his family so they asked if they could use our facility. It was a privilege to help their church and family out during their time of loss and celebration. Having the attitude and mission to be the "Go-To" church in Dixon makes it easy to say yes to help others. Again this is a way for our church to make a kingdom impact for Jesus Christ.
Finally, I want to share how we have been a "Go-To" church for over 25 years through the ministry of the ARK Day program by updating you on what has been happening since the end of February. The ARK board and members of the Leadership Council have met and are working together to hire a Director, Assistant Director and 1 part-time teacher to start ARK back up. Once we find these people we will start advertising for babies, O to 2 years old. If we can do this before April 15th ARK will reopen. If not ARK will officially close its doors. ARK has been a part of our being a "Go-To" church so pray that God will bless our restart efforts.
If we keep finding ways to be the "Go-To" church God will be glorified and we will be energized to continue God's work!
Blessings, Pastor Tim