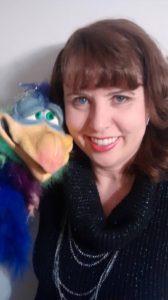 Youth Ministries Director
I appreciate the opportunity to be a part of the youth ministry program here at FUMC Dixon. I know I have a great responsibility in protecting,teaching, and sharing the joy of Jesus Christ to our youth. I am sure I will learn a lot on this journey with the kids. I know I am like a unpolished rock that needs fiery trials to make me the person that will best serve the kids. There has been plenty of that on my journey. On a brighter note I have been a full time Children's entertainer since 2001 traveling all over IL,IA, WI,IN,MI,MN,MO, and SD. Working most of the time as a clown either in or out of makeup. The wonderful part of clowning is it is a great tool to teach in a child like way that the kids feel they are teaching the clown. This creates a confidence in the children and brings joy and laughter to the experience.
Past experiences include volunteer Preschool Sunday School teacher from the time my oldest was in Preschool until my youngest was born at the very least twice a month at Moline Gospel Temple Moline, IL now known as New Hope. In 2018 I received a scholarship from the World Clown Association to attend a lecture of my choice and I chose the Next Step Workshop with Randy Christensen. Since the workshop in November 2018 I had a burning desire in my heart to be a director of youth services somewhere so I could use what God gave me. He gave me free classes and three of the best mentors I could ever hope to have. God keeps teaching me and I am still a far distance from where I want to be but I am fully committed to where he leads me. I refuse to give up.
Our plan right now for the school year is the first Monday of every month is Family Sunday this is also communion Sunday no youth services this day as we join as one church family. Power House Kids will start back up again on Sundays beginning on September 15,2019. Drop off for Nursery thru 5th grade is in the check in room. The earliest drop off is 9:40 A.M. and pick up is no later than 15 minutes after services. Power House Kids is designed to mirror much of what the adult services look like. We start the day with a fun meet and greet time. The kids then gather for praise and worship time. They give an offering, sing the doxology, say the Lords prayer, and learn the lesson for the day. The kids should leave each service with a great joy to show love to one another and let their little lights shine.
Blessings,
Laura "Daizy Dee" Anderson
Coal Valley,IL