Back to School = Back to Church?
(8. 19, 2019)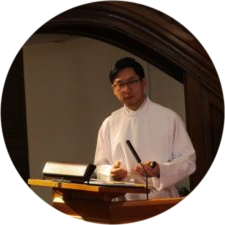 One day, Pastor Tim and I chatted in the hallway. We spent most of the time talking about church and ministry in general. In the conversation, one of the things that we talked was haunting me for some time. Tim said that in the 1st Greco-Roman world the gospel of Jesus was indeed a good news in a sense that everyone can be a child of God through Jesus Christ, and they are all equal regardless of whether they are Jewish or gentile, slave or master, male or female, and poor or rich (Gal 3:28-29). It must have been a radical message for those who lived in a very hierarchical and exclusive world. Truly, it was good news. But how about now? We live in a society that human rights and dignity are highly valued, declared, and established by law (written in the U.S Constitutional Amendments). Although there are still many tasks to eliminate all forms of discrimination and barriers to human dignity, equality, and freedom, there is something more that people want to hear to know about what it means to live life to the fullest. In what ways is the gospel of Jesus good news to the people who live in the 21st century? That's a challenging question. In the meantime, I was reading articles in the aftermath of mass shooting on Aug. 3 in El Paso, Texas, and Aug. 4 in Dayton, Ohio. One of the writers examined the events in light of ACEs (Adverse Childhood Experience). This is from his article: "The real problem is that the hearts of the perpetrators are wounded and fragile. The perpetrators of mass shootings are looking for ways to act out towards others because they are hurting so badly deep on the inside. When one's heart is wounded, that person's life will reflect the wounded condition of their heart… unless and until it is healed. And people with wounded hearts often wound other people. They can even shoot other people… sometimes many people at a time in a mass shooting. Our society may call these mass shootings 'hate crimes,' but at the core, the emotion of hate directed towards others stems from unresolved deep issues of the heart – deep spiritual issues." I agree that the fundamental issue of gun violence is a spiritual issue. Furthermore, it does not confine to gun violence, but all forms of violence and life issues stem from unresolved heart problems. Still, people need the good news about the One who can leads, guides and heals our unresolved hearts. People want to know how to deal with their hearts that are hurt, shaken, and broken. Regarding this matter, the writer of Psalm 73 says, "26 Whom have I in heaven but you?
And there is nothing on earth that I desire other than you.
26 My flesh and my heart may fail,
but God is the strength of my heart and my portion forever." I believe that the gospel of Jesus is still what people need the most. God created us by, in, and through Him. Thus, Jesus knows everything in our hearts. But the problem is what Thomas A Kempis pointed out in his book, "Imitation of Christ" long time ago, "We are too occupied with our own whims and fancies, too taken up with passing things. Rarely do we completely conquer even one vice, and we are not inflamed with the desire to improve ourselves day by day; hence, we remain cold and indifferent. If we mortified our bodies perfectly and allowed no distractions to enter our minds, we could appreciate divine things and experience something of heavenly contemplation….The greatest obstacle, indeed, the only obstacle, is that we are not free from passions and lusts, that we do not try to follow the perfect way of the saints. Thus when we encounter some slight difficulty, we are too easily dejected and turn to human consolations. If we tried, however, to stand as brave men in battle, the help of the Lord from heaven would surely sustain us. For He Who gives us the opportunity of fighting for victory, is ready to help those who carry on and trust in His grace. …Let us, then, lay the ax to the root that we may be freed from our passions and thus have peace of mind." Did you see that there is hope? We can have peace of mind by exercising our hearts. Our children went back to school and started their new year of school to grow and learn. Likewise, we have to come back to church (not just attending church) again that we may practice having peace of our hearts. We need Jesus. Our children need Jesus too. Our church is going to produce together: love, joy, peace, patience, kindness, goodness, faithfulness, gentleness, and self-control within our hearts. The church is the best place to do this job because church is the body of Jesus Christ. Back to school sounds to me like going back to church! Wonderful days and season of learning and practicing came back to us to be more like Jesus! Are you ready for this exciting journey? Who needs to join this? Let us go back to church as well as school!!
Blessings to you, Pastor Heewon