Promise
(Feb. 20, 2019)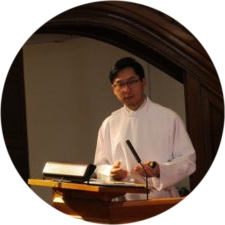 All people at Dixon First United Methodist Church are very special to me. And Rosemary Snider was a special person to me, too. She was a beloved child of God, worshipping the Lord at our Saturday evening worship service. Until she received a call by God to transition to her eternal home, she had a clear consciousness and we always had a good talk. If I had had an opportunity to officiate or just to participate in the celebration of her life, I would have wanted to say something. Sadly, such a chance didn't happen. Instead of losing the chance, I'd like to share here what I wanted to say because she was also dear to all of us.
Whenever I visit Rosemary, she told me that her only wish was to get out of the room in which she had been hospitalized for a long time in the nursing care facility, so that she can go back to her home. For the past few years, Rosemary fought with herself in that small room with loneliness, sense of isolation, powerless, loss of routine she enjoyed, and people whom she interacted. One day, I said, "Rosy, you will make it through and you'll get there!! Let's get out of here! Let's keep it up! Don't stop eating! Okay?" She said, "Yes! I will!" The way I prayed for her was likely that such hope will become a reality by the power of God. It seemed like a promise made by between me and Rosy. However, when I received a phone call from Sue that Rosy is not very doing good, I visited and saw Rosemary who was nothing but skin and bones. Fighting back my tears, I couldn't say anything for minutes. The only thing I found to say to her was "Don't stop eating." And a few days later her only wish didn't come true. And yes. A pastor's earnest prayer seemed not working.
We make promises every day. Do we always keep our promises? How about this? When a man and woman get married, they usually make promises to one another. They say something like, "I promise to love you for better or worse, for richer or poorer, in sickness and in health as long as we both shall live." Unfortunately, we may have to admit that we fail in keeping our promises somewhere along the line. How fragile our promises are? The promise we hoped or a wish we have may not come true.
Does God always keep God's promises? Yes, God does. Jesus said, "Heaven and earth will pass away, but my words will not pass away." (Matthew 24:35) and "For no matter how many promises God has made, they are "Yes" in Christ." (2 Corinthians 1:20) I remember the last time I visited Rosy and the prayer I did together with her. After I prayed for her with the promises God had for her (and of course for all of us), she exclaimed, "Amen" out of her small scrawny body. And I realized that her "Amen" became "Yes" because God promised her eternal life and eternal home for her rest and peace and Rosemary was in Christ. So, the promises are "Yes" in Christ although our wish in our physical world seemed not come to pass. And I realized that the prayer I prayed for her is not my own prayer but it is the prayer between God and her, affirmed by God's promise for her. This realization brought me joy and comfort from deep inside of my heart. I am glad that Rosy had the faith to say with a loud voice "Amen" to it.
When you pray, remember we pray in the name of Jesus. There is power in the name of Jesus, not in the person who prays. In Jesus, there are many promises God has in store for you in the Bible. So, we have to read the Bible and praying with it. Because praying God's word reminds us of God's promises. God doesn't need to be reminded of what God has promised, but we often do. When you pray and say in faith "Amen" to it, they are all "Yes" in Christ our Lord. Trust in God and God's promise my brothers and sisters in Christ.
Blessings, Pastor Heewon