We Are the Church
(Apr. 10, 2019)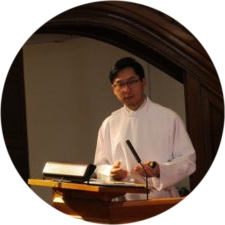 Greetings to you in the name of our Lord Jesus! Yesterday, I was in a committee meeting. One of the agendas we talked was about how we're going to take some following steps after we received the ALICE training last month and one that we also did in the previous year. For those of you who didn't take the ALICE training, it is to help people proactively respond against active shooter events. ALICE stands for Alert, Lockdown, Inform, Counter, and Evacuate (A-L-I-C-E). As we know, last year there were more than three hundred mass shootings that occurred in our country. Many fires occurred in public areas like schools, churches, parks, etc. Hate crime against different religion or ethnicity has rapidly increased. In response to such frequent shooting violence, Our church had to take actions to try to protect ourselves as much as we can. So we took the training session that helps us to come up with ways to be more proactive at any possible occasion. While sharing ideas, one idea was to close every church door before church service starts. Another idea was to have armed officers during church service. All the plans we shared on the night just made sense to everyone. At the same time, we couldn't help but sighing out our grief the world we live in now. Well, somehow our United Methodist's core motto is "Open hearts, Open minds, Open doors." But the world we are living in seems to force us to stop using the slogan or at least modify it like "Open doors only before service starts…" Even though the world threatens us not to be the church as we're supposed to be or as we've been before, I've seen a lot of things happening in this congregations that witness to the world saying that, "No matter what, we are the United Methodist Church having that same slogan, "Open hearts, Open minds, Open doors!" "What?" I was uncomfortable to myself when I heard from the youth leader six years ago when she said, "They are all in our mission trip team. And they will get supported no matter whether they are members of our church or outside the church!" I thought to myself, "No way! They should be our church members or member's child if they want to receive this support" Nobody has to do a qualification process to receive this benefit. I've never attended a church service in my life. Still, can I go on a mission trip? The answer is "YES." It's like the passages from Isaiah 55 that I preached weeks before,
"Come, all you who are thirsty,
and you who have no money,
without money and without cost."
Our church has faithfully been practicing this passage to our youth. If you are a youth under 18, pay fifty or sixty bucks for the registration and join us! In most cases, a person's cost for a mission trip is about $350-$400 which means our church has been supporting the whole expenses of our mission trip while asking each youth to pay $50-60. If you cannot afford to register, still you are fine because we'll bring you on our trip anyway! This year, it will be my sixth mission trip in a row at FUMC of Dixon. And every time I bring our teenagers to unknown places we've never been to, I am so grateful to my church family that made this trip possible for us to experience Christ's love. It is such a lavishness that God has shown to us through Jesus Christ as the Ephesians 1:8 says, "…according to the riches of his grace that he lavished on us…." Will they understand what this means in someday? I hope so, not that they will appreciate our generosity, but that they will experience the riches of God's mercy and love through your love so that they can also follow Jesus by serving the church and support its ministry as you do so that the people in the church might be touched as they did. In our Book of Discipline, part four in section six, it says "Called to Inclusiveness…Inclusiveness means openness, acceptance, and support that enables all persons to participate in the life of the Church, the community, and the world…therefore, inclusiveness denies every semblance of discrimination…" As a cross-cultural / cross-racial pastor, I am so proud of this church that this church has experiences of serving God with other cross-cultural / cross-racial pastors in the past. Spiritual maturity is not measured by how much you read your Bible daily or how long you pray to God every day. It is also measured by how you treat others, especially when they don't look like us. Your maturity in working for Christ in our differences makes a difference in this community and the world. Though I sometimes feel limited in terms of mingling with people because of our different culture and language, your kindness and consideration for my family and me touch me and teach me what inclusiveness means as Christians. Your inclusive maturing heart even expanded to our youth ministry in ways that they feel welcomed and supported no matter who they are. This love enables us to go on another mission trip this year. T
hank you for your support. We don't know who will we meet and what will happen, but we are sure that there is Jesus who is already there, sharing his great love and grace just as the resurrected Jesus waiting for his disciples in the Sea of Galilee. And yes, we'll be participating in the work that God has already begun. This story tells us what Easter means. Whether you think you are ready to celebrate the risen Christ or not, Jesus is alive and he came into our lives, and he is present among us. Remember! You are the one who is making another Easter story through your love and support for someone. May the joy of Easter be with you all! Hallelujah! Christ has risen!
Blessings to you, Pastor Heewon